Eindhoven Airport Arrivals (EIN)
Not all flights may be showing. If not available use search above to find your flight by airline, airport or flight number.
Origin
Airline
Flight no.
Scheduled
Est./Actual
Status
Budapest (BUD)
Wizz Air
W62273
04:45
Delayed
Tenerife (TFS)
Transavia
HV6216
04:50
Scheduled
Prague (PRG)
Transavia
HV5236
05:00
Scheduled
Skopje (SKP)
Wizz Air
W67715
05:05
Scheduled
Krakow (KRK)
Ryanair
FR5892
05:10
Delayed
Bergamo (BGY)
Ryanair
FR3537
05:10
Scheduled
London (STN)
Ryanair
FR2537
05:55
Scheduled
Rome (FCO)
Ryanair
FR5814
06:00
Scheduled
Vilnius (VNO)
Ryanair
FR7655
06:35
Scheduled
Varna (VAR)
Wizz Air
W64513
06:40
Scheduled
Manises (VLC)
Ryanair
FR1717
07:00
Scheduled
Zagreb (ZAG)
Lauda Europe
FR5868
07:00
Scheduled
Madrid (MAD)
Ryanair
FR3066
07:25
Scheduled
Faro (FAO)
Ryanair
FR5768
07:30
Scheduled
Madrid (MAD)
Transavia
HV90
08:03
Scheduled
Oviedo Aviles (OVD)
Transavia
HV96
08:23
Scheduled
No flight arrivals were found at Eindhoven Airport.
Flight Arrivals at Eindhoven Airport
When you arrive in Eindhoven Airport in Netherlands, have all the necessary documents for your flight, including a valid passport, any visas that may be required, and your boarding pass.
Familiarize yourself with the airport layout to know where your gate is and how to get there.
Allow plenty of time for security checkpoints and possible delays. Following these simple tips can help ensure a stress-free travel experience.
If missing baggage, passengers may approach the nearest Airport Information Desk. You can also reach the Lost and Found Office at 0900 9505.
Important Note:
If you travel to the Netherlands, you may need a visa. Whether you need access and which access depends, among other things, on your nationality. And whether you want to stay in the Netherlands for shorter or longer than 90 days.
Your passport must be valid for at least three months beyond your estimated departure date. Please remember to apply for a visa in advance if you are traveling from a country that requires one.
Wi-Fi at Eindhoven Airport
Wi-Fi service is available throughout all indoor public areas at the Airport, including the main terminal, departure gates, and baggage claim areas.
Transfer Services at Eindhoven Airport
This Airport provides several ground transportation facilities, including rental cars, taxis, rideshares, shuttles, and buses.
Rental Car Services at Eindhoven Airport
The terminal's Arrivals Hall is home to car rental companies. Most of the time, the rental facility is open all the time. Inquire about service hours and return policies with your service provider as well.
Please bring your driver's license, passport, and credit card to expedite the check-in process when you arrive at the facility. You'll get your car key and be taken to where your vehicle is parked as soon as you've completed all papers. See and compare all rental car companies at Eindhoven Airport.
As soon as possible, plan and book your rental car ahead of time for your vacation. Check with your automobile rental business ahead of time to be sure you have a reservation.
Rideshare Services at Eindhoven Airport
Although many travelers are unaware that rideshare services are accessible at airports. You can save a lot of money by taking public transportation instead of an airport taxi. Taking a cab from the Airport may be more expensive than using this service.
Rideshares pick up passengers at the designated pickup location in front of the terminal.
Passengers may book rideshare directly with their driver using the company's smartphone app.
Alternatively, they can arrange transportation a few days before travel to avoid the hassle.
Uber and other ride sharing applications should allow passengers to confirm the identification of drivers by looking at their photos and/or their license plates.
Taxis at Eindhoven Airport
Using taxi services at the Airport is becoming more and more every day. Getting a taxi outside the Airport can be difficult because of the many people who need to travel.
The good news is that many airports have taxi services right in the terminal. Travelers will appreciate how much more convenient it is. Once you've reached the Ground Transportation Center, you'll want to sit and wait for a cab. See more information about taxis at Eindhoven Airport.
A one-way taxi ride from Eindhoven Airport to the city center should be around 25 Euros or less.
Discuss charges with your driver if you need to go outside the city limits. Tipping the driver (15-20 percent of the fee) for excellent service is familiar.
If you leave something behind, document the cab company, vehicle number, and the driver's name.
Trains at Eindhoven Airport
This Airport does not have a train station. The facility may also have cabs, shuttle buses, or car rentals if that is more convenient for you. They could take you directly to the train station.
More information about train services near Eindhoven Airport.
Buses at Eindhoven Airport
The Ground Transportation Center in front of the airport terminal offers public buses. More information about buses to and from Eindhoven Airport.
Hotel Shuttles at Eindhoven Airport
Many hotels in Eindhoven offer complimentary shuttle service to and from the Airport. Passengers can check with their hotel to see if this service is provided. Shuttles pick up passengers outside the terminal at the Ground Transportation Center.
Customers can park their vehicles at the Airport. It's a first-come, first-served parking situation. There is no need to make any prior arrangements.
The facility accepts credit cards and cash payments. Call 0900 9505 if you have immediate parking difficulties or an emergency.
Other Services at Eindhoven Airport
Wi-Fi at Eindhoven Airport
The Eindhoven Airport has free Wi-Fi.
ATMs at Eindhoven Airport
Airport arrivals are served by several ATMs. Mastercard, Visa, Discover, and American Express are all accepted by the machine.
Fees may be incurred. Make sure you're aware of the costs and the daily withdrawal cap. Withdrawing money from an international location may be subject to limits imposed by your bank.
You may need to tell your bank while traveling for safe and convenient access to your money.
Currency Exchange at Eindhoven Airport
This location offers currency exchange services.
Nursing Stations at Eindhoven Airport
Breastfeeding women and families traveling with children can rest comfortably in designated sections of the Airport. For assistance, please go to the Airport Information Desk or call 0900 9505.
Restrooms at Eindhoven Airport
Both handicapped-accessible bathrooms and ordinary restrooms are spread out over the airport grounds.
Food and Beverages at Eindhoven Airport
The airport terminals are filled with places to eat and drink. Most food concessions have variable hours of operation.
Shopping at Eindhoven Airport
Arriving passengers have the option of doing some last-minute shopping.
Smoking at Eindhoven Airport
There are designated spots outside the terminals where you can smoke. Please observe the no-smoking policies at all times while on the premises. The terminal building does not have a smoking area.
Lost and Found Section at Eindhoven Airport
Contact the airline's lost and found department if you've misplaced something on the plane or at the gate.
Anywhere in the Airport, including security checks and shuttle buses, is a potential location for the misplaced property.
Please provide your full name, phone number, email address, and a brief description of the missing item when submitting your contact information (s).
Loss and found items will be kept at the Airport for 30 days.
Airport Information Desk at Eindhoven Airport
Information about flights, airport facilities, and nearby transportation choices can be obtained from the Airport Information Desk.
In the lobby, you'll find a service counter. You can reach them by phone at 0900 9505.
Pet Relief at Eindhoven Airport
In front of the terminal at Eindhoven Airport, there is a dedicated space for pets to relieve themselves. Check with the airline to see if there are any limits or unique guidelines for traveling with a pet.
There must be kennels that can survive breakage and prevent pets from escaping when they are allowed.
It is the responsibility of pet owners to abide by local ordinances that restrict the movement of animals in enclosed public areas.
Your airline should be able to provide you with all of the appropriate documentation for your pet.
Baggage Claim at Eindhoven Airport
Please return your luggage to the baggage claim area on the Airport's ground floor. Passengers with specific needs can use carts to go about.
Contact your airline or airline ticket counter if there are any lost items. You can also call them at 0900 9505.
A detailed description of the lost item should be included in the message you leave, along with your name, email address, and phone number (s).
Disabled Passengers at Eindhoven Airport
Passengers with special needs may find it challenging to travel alongside ill passengers or have other disabilities.
If feasible, speak with the airline directly to review your specific needs. Plane transfers, transit choices, and emergency treatment should all be included in a comprehensive travel itinerary.
Was your flight delayed or cancelled?
You may be eligible to receive up to 600 EUR compensation per person in your party..
Claim Now!
Beat the Queues
Don't stand sweating for 45 mins waiting for Security. Get a fast track and get through in 5 mins or less.
Book now
Lounge like a VIP
Avoid the crowds. Get discounted access to the VIP airport lounge. Its not as expensive as you may think.
Book now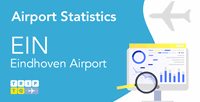 Eindhoven Airport Passenger Numbers Inch Closer to Pre-Pandemic Levels, Recording 2.01% Growth in Q3 2023